Duncan Thomas and Friends: History & Stories
Biography
Early Days on the Skarloey Railway (Series 4)
Duncan in Thomas and Friends arrived on the Skarloey Railway as a spare engine after Peter Sam's accident with some slate trucks. In the beginning, he was prone to "Rock-n-Roll," a boisterous bouncing about that led to him getting stuck in a tunnel. Fortunately, Skarloey came to the rescue and helped him out.
Developing Friendships and Learning Lessons (Series 5)
Duncan's grumpy and rude behavior was evident when he called Rusty a "smelly diesel" for warning him about a bad bit of track. However, after Rusty saved him from a derailment, Duncan apologized and developed a friendship with him. He also made a fuss about not being polished, but Skarloey taught him a valuable lesson about putting passengers ahead of polish.
Confronting Ghostly Encounters (Series 6)
Duncan's teasing nature got him into a spooky situation when Rusty played a trick on him. Rusty told Duncan a story about a ghost engine falling off the Old Iron Bridge, and the next night, Duncan encountered fireflies forming the shape of an engine, followed by a well-timed rock drop that spooked him. This experience put Duncan in his place, thinking he had seen a ghost.
Teasing and Helping Others (Series 7)
Duncan enjoyed teasing standard gauge engines like Thomas and James, but his teasing sometimes caused problems. He once teased James about doing two jobs in one day, but later, he came to James' rescue by bringing him some coal and apologized for his earlier teasing.
A Rough Exterior with a Kinder Side (Series 9)
Duncan's rough manners and lack of Christmas spirit were well-known, but he surprised everyone when he heroically helped Luke up a hill around Christmas time, showing his kinder side. As a reward for his good deed, he was given a new coat of paint.
Surprising Encounters at Crovan's Gate (Series 22)
While at Crovan's Gate, Duncan and Sir Handel witnessed Hugo racing by the station, leaving them both wondering about the mysterious engine.
Personality
Grumpy and Strong-Tempered
Duncan is a Scottish narrow gauge engine with rough manners and a strong temper, making him one of the least social engines on the Skarloey Railway. He often grumbles and complains, especially about not being polished or being overworked. His dislike for Christmas is well-known, and he has been heard saying "Bah Humbug!" during the festive season.
Rude and Rough
Duncan's approach to communication is plain-speaking, which sometimes leads him to make callous or belligerent remarks. He can be impulsive and make rash decisions that often lead to trouble, such as getting into arguments or feuds with other engines, particularly Rusty.
Competitive and Teasing
Despite his rough exterior, Duncan can be competitive, especially with engines like James. He enjoys teasing the standard gauge engines, like Thomas and James, whenever he sees them at the Wharf. However, his teasing has sometimes caused problems and led to him learning valuable lessons about being considerate.
Focused and Resourceful
When it comes to work, Duncan is focused and eager to be useful. He is always willing to lend a helping hand whenever he can and takes pride in his role on the Skarloey Railway.
Kinder Side and Gratitude
Underneath his gruff exterior, Duncan has shown a kinder side and demonstrated gratitude to those who have helped him. When Rusty assisted him after a derailment, Duncan apologized and extended a wheel of friendship, showing that he is capable of appreciation.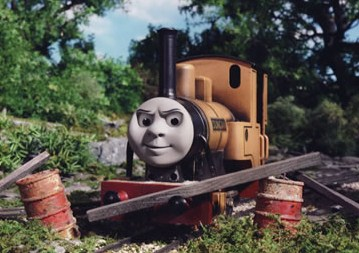 Technical Details
Basis
Duncan is based on the real-life narrow gauge steam locomotive "Douglas" from the Talyllyn Railway. "Douglas" belongs to the Andrew Barclay "E" or "Light" Class of 0-4-0WT locomotives. Several other engines of this class are also preserved, making Duncan's basis a historically significant and recognizable narrow gauge locomotive.
Livery
Originally, Duncan was painted yellow with black lining and gold boiler bands. However, from the sixth series onwards, Duncan's livery changed to golden yellow. In the transition to CGI, the lining on his cab became unpainted. Duncan's nameplate on the side of his boiler and number plate on the side of his coal bunkers are brass and black, respectively. Interestingly, it is stated in "The Big Book of Engines" that Duncan was originally painted red before arriving on Sodor.
Trivia
Duncan's large-scale model is currently on display at the Hara Model Railway Museum in Japan, where visitors can marvel at the intricacies of his design and character.
He is the only narrow gauge steam engine who has not gained a new whistle sound since his debut in the fourth series, which has helped maintain his distinctive audio presence.
Duncan was originally meant to appear in "The Great Little Railway Show," but he was ultimately not included, as this would have required recording only one line of dialogue for the character.
Throughout his reappearance in the HiT era, Duncan has received a main episode in every series, making him a consistent and integral part of the Skarloey Railway fleet.
In the French dub, he was initially referred to as "Dominique" until the ninth series, with some occasional misspellings as "Dominque."
Duncan's small-scale model, used in the fourth and fifth series, is now owned by Twitter user TomsProps. His happy face for the model was originally owned by ThomasTankMerch, who later sent it to TomsProps after acquiring the model.
Duncan's whistle sound was provided by the American locomotive Rio Grande No. 168, adding a unique touch to his audio presence in the series.