Peter Sam: The Cheery Little Engine
Peter Sam, originally named Stuart after his builder Kerr Stuart, is a lively green narrow gauge saddle tank engine who works tirelessly on the railway. He shares a strong bond with his friend Rusty, another small engine. One day, after Rusty helped him reach a water tower, Peter Sam's trucks unexpectedly broke loose and hurtled down the track, derailing on the Old Iron Bridge and tumbling into a ravine.
The mishap occurred due to inadequate truck securing. Consequently, the Fat Controller disciplined Peter Sam, assigning him to work in the yards until he regained trust. However, Peter Sam's determination and spirit never wavered. He resumed his duties at the Skarloey Coal Yard and the slate yard once the railway reopened, proving himself a valuable asset.
Once, Peter Sam encountered a mishap when a low-hanging tree branch knocked off his whistle. Undeterred, he borrowed a whistle from another engine, showing resilience in the face of challenges.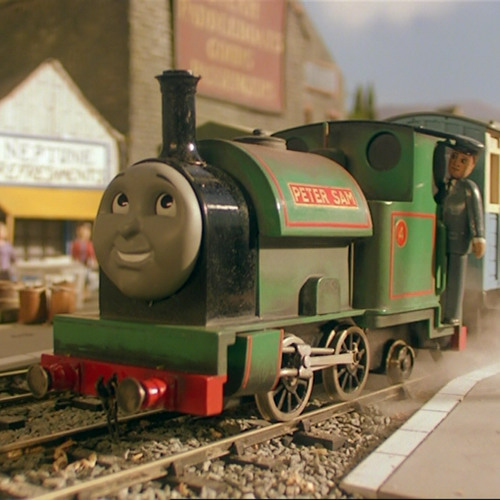 Additionally, Peter Sam assisted the Refreshment Lady in finding a location for her tea shop, highlighting his helpful nature. On another occasion, he embarked on a night journey to deliver a winch for the incline, only to get lost searching for the legendary engine, Proteus. Fortunately, with the aid of Harold's guiding light, Peter Sam found his way home.
Peter Sam also displayed responsible leadership when he was put in charge of the Skarloey Railway while Mr. Percival was away. Although he ran out of coal, Victor, a friend from another railway, came to his rescue. Such episodes exemplify Peter Sam's dedication and resourcefulness.
Personality
Peter Sam, also known as Stuart in his earlier days under Duke's tutelage, is an exuberant and optimistic engine. He emanates cheerfulness and is ever willing to help others. While he may exhibit occasional cheekiness, his kind-hearted and well-mannered nature wins over everyone. At times, he might interpret things too literally, showcasing a touch of naivety. Nevertheless, Peter Sam's infectious attitude and strong work ethic endear him to all. Unlike his counterpart, Sir Handel, Peter Sam seldom complains about extra work or late hours, always approaching every task with enthusiasm.
However, when teased or misunderstood by larger engines like Henry, Peter Sam can get quite upset and assert his boundaries firmly. Despite such instances, he maintains a friendly demeanor toward everyone.
Technical Details
Basis: Peter Sam is based on the Talyllyn Railway's Edward Thomas, a Kerr Stuart Tattoo Class 0-4-2ST locomotive that initially operated on the Corris Railway. Interestingly, Peter Sam's model adorned the Giesl ejector funnel from the beginning, while the real Edward Thomas only sported it for a limited period. Four other Tattoo locomotives, including a replica on the Corris Railway, are also preserved.
Livery: Throughout the television series, Peter Sam is consistently painted dark green, complemented by red lining and brass fittings. His saddle tank and coal bunkers boast red and gold name and number plates, respectively. In the re-illustrated version of "Trucks!" featured on The Thomas Way DVD, Peter Sam is depicted in the same dark green livery.
Appearances
Peter Sam has played a significant role in various episodes throughout the Thomas & Friends series. Some of the notable ones include "Granpuff," "Peter Sam and the Refreshment Lady," "Steam Roller," "The Magic Lamp," "Thomas and the Big Bang," "Cool Truckings," and "Ding-a-Ling." Additionally, he has made cameo appearances in several episodes and specials.
Trivia
In a delightful cameo appearance, Peter Sam's original Wooden Railway toy, along with Thomas', was featured on an episode of Australia's Funniest Home Videos.
Contrary to his CGI representation, both the physical and CGI models of Peter Sam lack valve gear.
In 2014, Peter Sam's small-scale model, accompanied by a slate truck, was auctioned at Vectis and sold for £2,600.
Notably, Peter Sam is the only engine to receive a new funnel in the series.
In the French dub, he was initially referred to as Pierre-Jean before being named Étienne on the Mid Sodor Railway.
Quotes
"I'm Peter Sam, I'm running this line! I'm Peter Sam, I'm running this line!" – Peter Sam joyfully singing in "Peter Sam and the Refreshment Lady" and "Four Little Engines."
"Peter Sam's said again and again, his new funnel will put ours to shame. He went into the tunnel, lost his old funnel. Now his famous new funnel's a drain!" – Sir Handel teasing Peter Sam's new funnel in "Special Funnel" and "Gallant Old Engine."