Thomas and Friends James, History & Stories
James is a red mixed-traffic tender engine and the number 5 engine on the North Western Railway. He mainly works on the Main Line, handling passenger and goods trains.
James' ego sometimes gets him into trouble, like the time he tried to switch jobs with Gordon and ended up tricking Thomas to give him the express coaches. The Fat Controller found out about James' tricks and punished him by leaving him in the shed until he learned his lesson. However, he later redeemed himself by arriving on time with an inspector and being considered a useful engine.
James' pride often stops him from taking advice from others, like when he disregarded warnings about trees too close to the line until one nearly caused an accident.
James' teasing tendencies have also backfired, such as when he made fun of Percy for being a "middle engine" but later ended up being one himself.
After making fun of Percy about a supposed monster on Sodor, James had to apologize and venture into the quarry to look for the footprints he had teased Percy about, leading to a rockslide that Percy had to rescue him from.
The Adventure Begins
James arrived on the North Western Railway before Thomas. Initially, he was painted black with wooden brake blocks, but after a crash, he was repainted into his iconic red livery.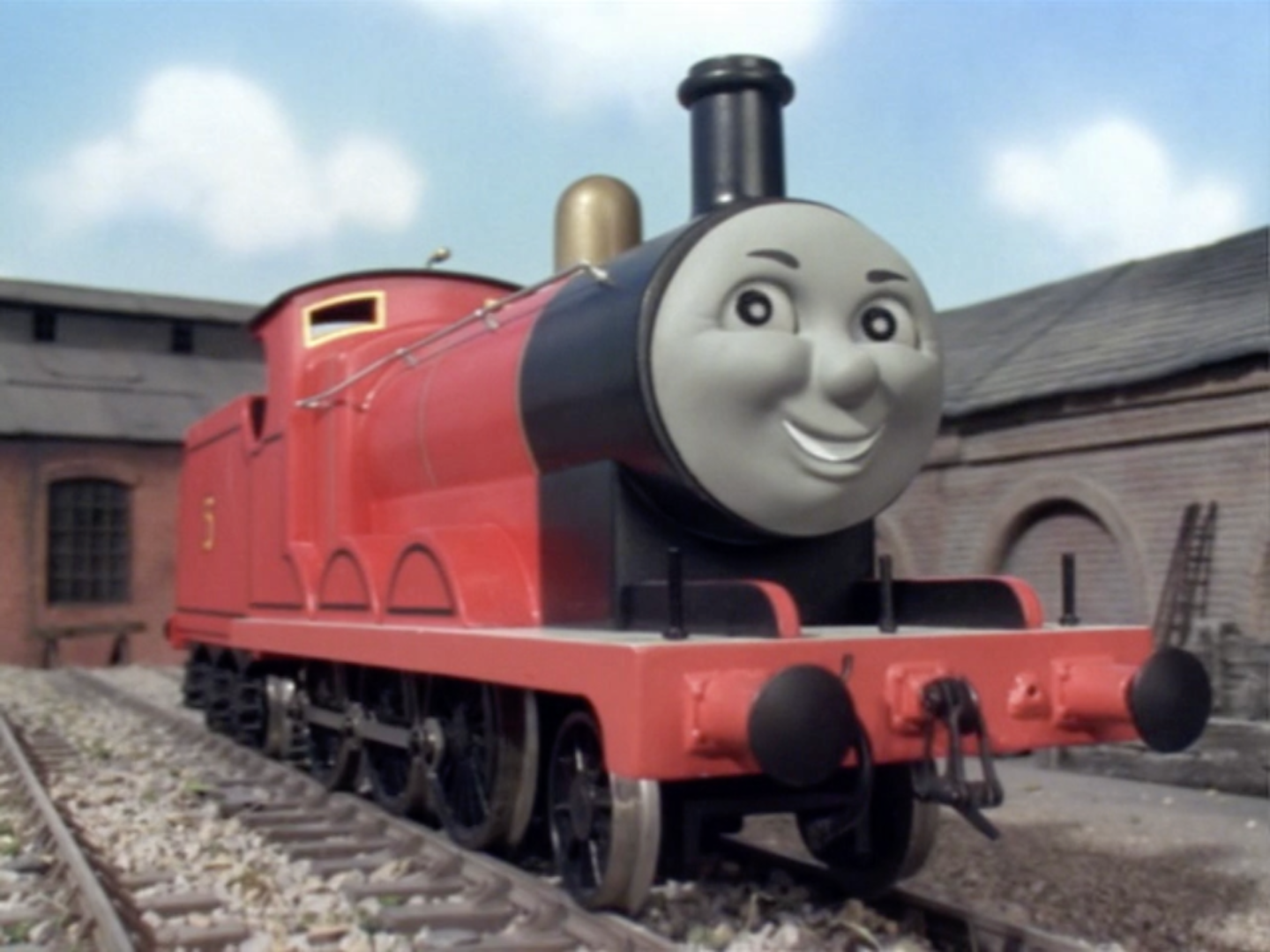 Personality
James takes great pride in his splendid red paintwork and believes himself to be superior to other engines. He can be vain, boastful, and arrogant, especially towards those he considers old-fashioned or weak. Despite this, James can be helpful and caring when needed.
He used to have a prejudice against diesels, but after being rescued by one, he learned to appreciate their usefulness.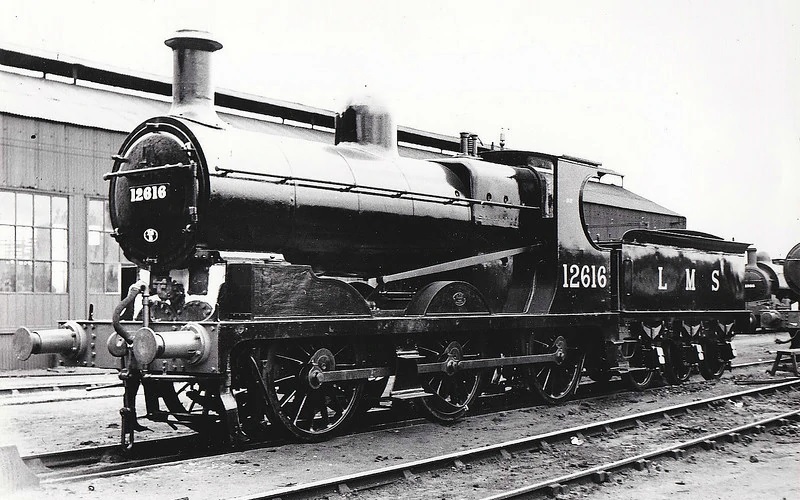 Technical Details
James is based on a Lancashire and Yorkshire Railway Class 28 engine, with some experimental modifications, including a front pony truck and a Fowler tender.
Livery
James is painted scarlet red with black lining, yellow cab window frames, and gold boiler bands. His number 5 is painted in yellow with a black outline on his tender.
Appearances
James has appeared in numerous television series, specials, and music videos throughout the years, playing various roles and having various adventures with his friends on Sodor.
Official Description
James is a medium-sized engine with a fine scarlet coat and a brass dome. He considers himself a "Really Useful Engine" and is known for pulling both passenger coaches and freight cars.
Trivia
Red-Nosed Engine: James is one of the two engines in the series to be referred to as a "red-nosed engine," the other being Thomas. This nickname likely comes from their red-colored noses, which are part of their distinctive designs.

Liverpudlian to Cockney Accent: In the UK version of the live-action model era, James was given a Liverpudlian accent by the voice actor Michael Angelis. However, when the show transitioned from live-action to CGI animation, the character's voice changed, and he gained a Cockney Londoner accent, provided by voice actors Keith Wickham and Rob Rackstraw. In the US dub, James consistently has an American accent, except for a few exceptions in the narration.

"Here's James!": James' catchphrase, "Here's James!", is said to be a reference to the famous catchphrase "Here's Johnny!" from the 1980 horror film "The Shining," spoken by the character Jack Torrance.

James' Whistle: The sound of James' whistle is a synthesized version of Edward's whistle. A synth, short for "synthesized," refers to a combination of two sounds to create a harmony. In James' case, it is a combination of Edward's whistle pitched one note lower, combined with a seven-pitch lower version of the same whistle.

Formal Introduction: James was formally introduced in the first series of "Thomas & Friends" in the episode titled "Thomas and the Breakdown Train." Interestingly, this was said to be his first day on the railway, despite appearing in the background of previous episodes. This was likely done to populate the sets and create continuity.

Large-Scale Working Replica: A remarkable working replica of James was built by BBC Visual Effects for a tour in 2003, alongside Thomas, Percy, Harold, and Jack. This battery-powered locomotive found its place in the 2004 Guinness Book of Records as the largest model railway engine ever built, measuring an impressive 2.64 x 1.5 x 6.52 meters.

James' Popularity: James has garnered popularity not only among fans but also among several people who have worked on the "Thomas & Friends" series. Writers, voice actors, and even celebrities have expressed their fondness for James as a character.

International Name Changes: In some international dubs of the show, James' name was changed to suit the language or cultural context. For example, in the French dub, he was known as Jacques, and in early Spanish translations of the Random House books, he was called Jaime. In the second Polish dub, he was referred to as 'Kuba,' which is a Polish diminutive for Jacob.

Different Liveries: Throughout the television series, James has been depicted in various liveries, more so than any other character. This has provided diversity and uniqueness to the character's appearance.

Only 2-6-0 Locomotive: James is the only 2-6-0 (mogul) locomotive in the television series to be named and seen. This distinctive wheel arrangement contributes to his character's charm and appeal.

Lead Paint Crisis: Three of James' Wooden Railway toys were among the toys involved in the Lead Paint Crisis of 2005. The discovery of lead-based paint on certain toys led to recalls and increased safety regulations in the toy industry.