Thomas and Friends Spencer: History & Stories
Biography
Spencer, a sleek and silver streamlined tender engine from the Mainland, holds the prestigious position of being privately owned by the Duke and Duchess of Boxford, making him a cousin of the famous Gordon. His journeys often bring him to the Island of Sodor, accompanied by his owners.
Early Adventures
During his first visit to Sodor, Spencer took the Duke and Duchess of Boxford on an exciting tour around the island. Ignoring Gordon's caution about refilling his water, Spencer ended up running out of water on a hill. To save the situation, he blamed the incident on a leaky tank and had to rely on Gordon to take him to Maron.
On his subsequent visit, Spencer engaged in a race with Edward and held a significant lead for most of the competition. However, his vanity got the better of him, and he dozed off while the Duke and Duchess stopped for pictures, allowing Edward to seize victory by reaching the summer house branch line first.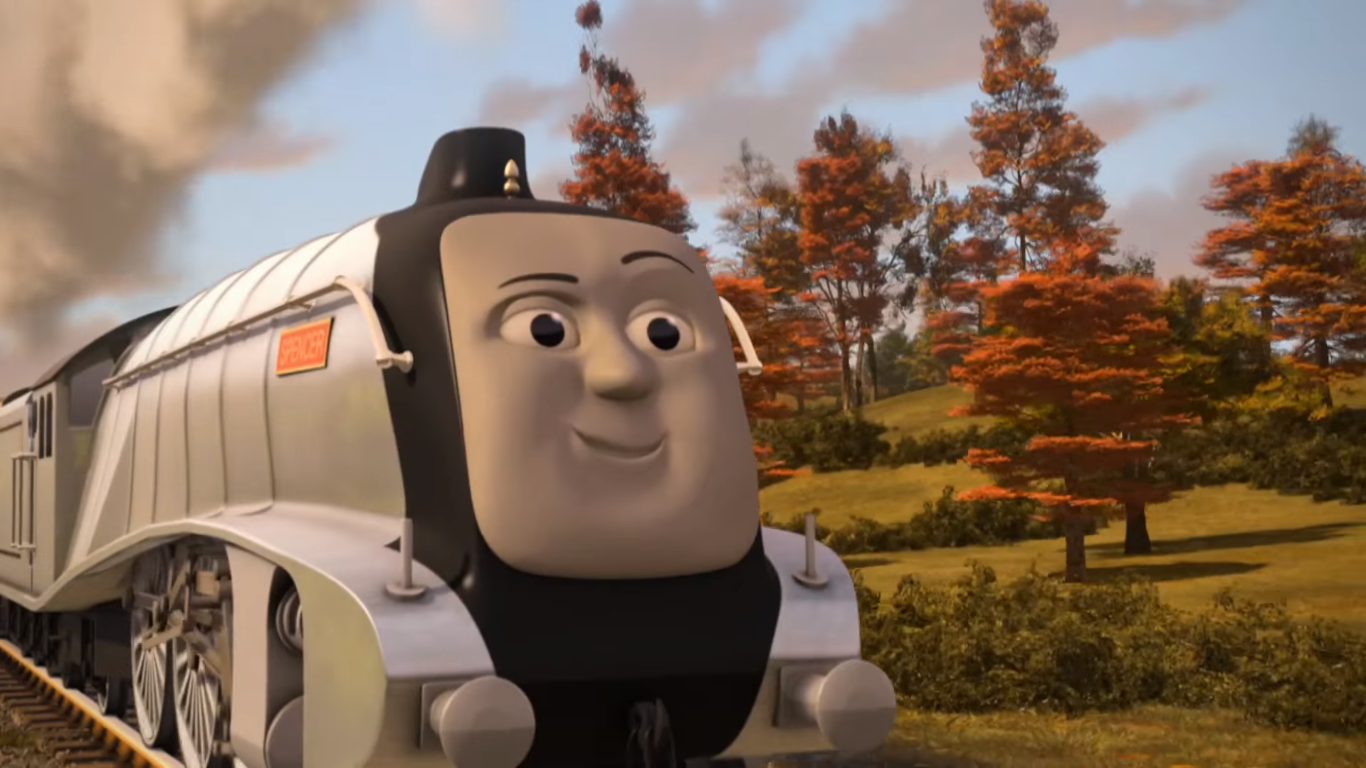 Rivalry and Challenges
Over time, Spencer developed a rivalry with Thomas, who often tried to outshine him, albeit with limited success. Despite his initial impressive arrival, the other engines grew to dislike Spencer, especially Thomas and Gordon, due to his arrogance and antagonistic behavior.
Spencer's arrival to construct the new summer house was met with dread by the engines, as they found his presence unbearable. During his stay, Spencer displayed nosiness, sneakiness, disobedience, and neglect, all while seeking revenge on Thomas for perceived trickery. However, his mischievous schemes only led to trouble and embarrassment.
A Humble Lesson
Despite his arrogance, Spencer does possess a kinder side and learns from his mistakes when reprimanded by the Duke and Duchess or Sir Topham Hatt. This side of him emerged when he assisted Percy in finding his way back to Tidmouth Sheds. Though proud, Spencer genuinely aspires to be a useful engine, just like all the others on Sodor.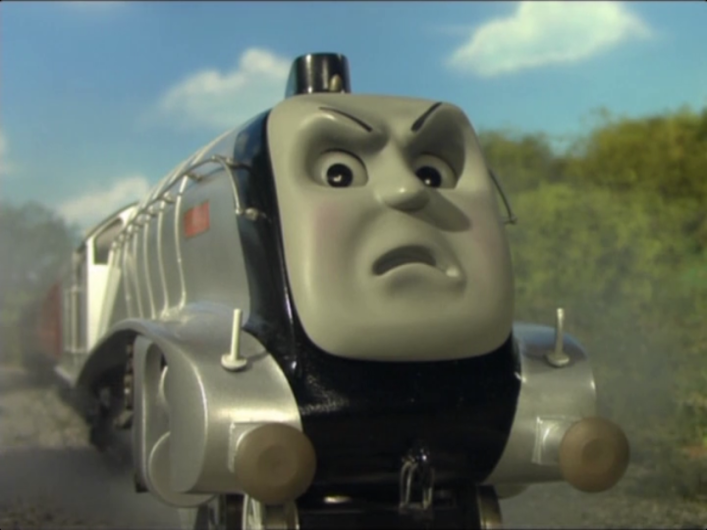 Personality
Spencer is characterized by his overwhelming arrogance, snobbishness, and pomposity, considering himself above menial duties like shunting. He takes immense pride in his speed, surpassing even Gordon and James in ego. However, his constant antagonizing and disregard for others lead to resentment from fellow engines, especially Thomas and Gordon.
Unlike most steam engines who show camaraderie in the face of dieselization, Spencer lacks sympathy and is even willing to see fellow steam engines scrapped if he deems them inferior. Yet, he does display a kinder side when confronted with his mistakes and feels remorse when reprimanded by the Duke and Duchess or Sir Topham Hatt.
Technical Details
Basis
Spencer is based on the London and North Eastern Railway (LNER) Class A4 Pacific locomotive, a streamlined 4-6-2 tender engine designed by Sir Nigel Gresley. These engines were built between 1935 and 1938 for high-speed, long-distance express services like the 'Silver Jubilee', 'Coronation', and 'West Riding Limited.' Many A4s, including Mallard and Sir Nigel Gresley, set world speed records for steam locomotives.
Livery
In his early appearances, Spencer was painted blue-grey with black lining. From the tenth series onward, he sports a metallic silver livery with black lining, giving him a striking and sleek appearance. His nameplate, painted in gold, adorns the sides of his smokebox. Notably, Spencer's livery draws inspiration from the 'Silver Jubilee' service, which featured silver-grey A4 locomotives.
Trivia
Spencer's concept art originally depicted him with a Kylchap double-chimney, a feature shared with a few A4 locomotives, including Mallard. Some merchandise models also show him with this design.

Spencer's whistle sound is a stock sound effect of a Great Western Railway (GWR) whistle found in the BBC Sound Effects Library. This same whistle was used for Thomas in some audiobooks.

In a Steamies vs. Diesels DVD game, Spencer is mistakenly referred to as a diesel, even though he is, in fact, a steam engine. This confusion arises from a statement that Spencer doesn't have a whistle but a horn, even though his picture shows a whistle.

Spencer's Hornby model incorrectly features black wheels instead of silver, as seen in most other merchandise models.

Spencer is named after producer Simon Spencer, according to writer Abi Grant.

In the Great Race promotional video, it is incorrectly stated that Spencer holds the world speed record for steam locomotives. However, the actual special clarifies that he is a former world record holder.

Spencer is the first steam engine to be the main antagonist in a special, Hero of the Rails. He remains the only major villain in the series to be a steam engine.

At some Day Out with Thomas events, Spencer's face is mistakenly represented as Mavis'.

Spencer's classic theme is a musical variation of the Coronation Scot theme, composed by Vivian Ellis.

According to The Fat Controller's Engine Fact File magazine, Spencer and Gordon are cousins, though this was never mentioned in the show.

Spencer's television series model was once on display at Nitrogen Studios in Canada with his smug face.

Spencer appears on a magazine in an episode of the Irish television soap opera, Fair City.

Spencer's Wooden Railway toy appears to have side valances, as the bottom of his frame is straight, unlike other merchandise models.

Spencer's previous ERTL toy and Hornby model portrayed him with a Kylchap double-chimney, a feature later removed in subsequent releases.

Spencer's cheerful face used in merchandise models is from his earlier model series, contrasting with his CGI appearance.